CarrerBikes the handmade designer bicycles have arrived in Switzerland, ready to ride the 12,000km of cycle paths that cross the country.
On 2nd and 3rd November, first in Bern and then in Basel, we officially presented our designer bicycles to the Swiss market.  A market with a long history of high quality craftsmanship.  Following the Calvinist reformation in Switzerland in the 17th century, the work of the goldsmiths and then the master watchmakers gained impetus. In the wooden-framed CarrerBikes, as with watches, there is a high level of craftsmanship as well as precision.  "All the parts in wood are rigorously hand crafted and go through tests that are comparable to those of the best watchmakers" Gianni Carrer (the brand's creator) likes to point out.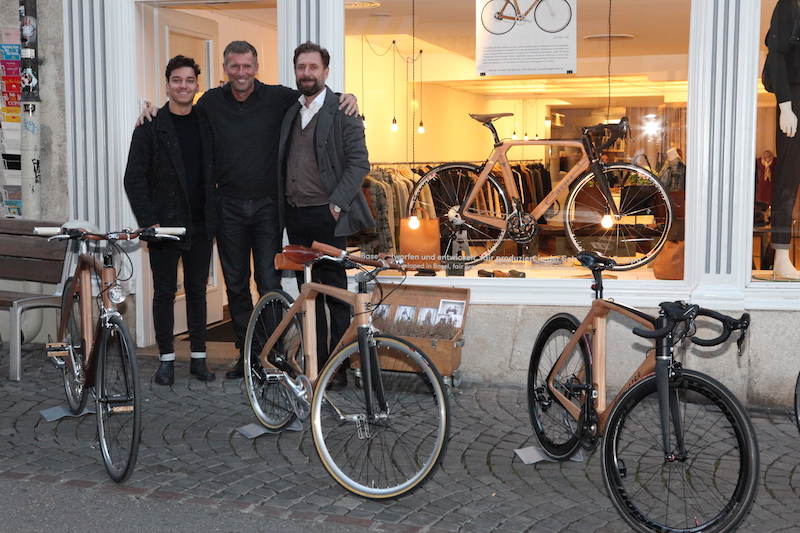 The bicycles were presented in the stores of Swiss designer Tanja Klein, together with her new autumn/winter 2017 collection: coats, leather travel and work bags and accessories, many of which were handcrafted in Italy.  A special entrance for the start of this new adventure which will take these bicycles to ride the 12,000km of cycle paths in and around the cities.
A country that is so practical can't but love the e-bike.  More and more people, even in Switzerland, are getting on electric bicycles and so CarrerBikes has brought out their own version of assisted pedalling.  So that even managers in suits and armed with helmets can get to work quickly and once in the office, can bring their CarrerBikes next to their desk, because not only is it a method of transport but it is also an object of beauty.
At the two launches at Klein Basel by Tanja Klein, CarrerBikes aroused a lot of admiration. We know that once you get on a CarrerBikes it will be love at first sight because apart from having an elegant design they are fantastic to use.
CarrerBikes is perfect for those who want customisation, exclusivity, elegance and technology that is exciting and easy to use.